THE Clipper Race, first held in 1996–97 and the brainchild of solo round-the-world yachts­man Sir Robin Knox-Johnston, is con­tested by 12 identical yachts, each with a pro­fes­sional skip­per but crewed by a com­bined total of 700 ama­teur sail­ors.
Martin Greenshields is very much one of the ama­teurs. Before embark­ing on this 10,000 naut­ical mile adven­ture of a life­time, his sail­ing exper­i­ence, he admit­ted, con­sisted of one after­noon on Carsington Reservoir.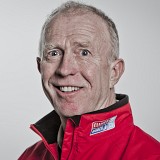 But bravely under­tak­ing the first two legs of the global chal­lenge — from Liverpool to Punta del Este in Uruguay, and then back across the Atlantic to Cape Town — wasn't quite as reck­less as it might at first appear. All the ama­teur crews had to embark on four sep­ar­ate weeks of train­ing at Gosport to turn them from novices to com­pet­ent crew mem­bers, learn­ing the basic skills of seaman­ship as well as under­go­ing sea sur­vival courses and 'man over­board' train­ing.
Recruits were then alloc­ated places on one or other of the 12 identical 70-foot ves­sels which make up the world's largest matched fleet of ocean racing yachts. Martin, a retired account­ant who lives on Redmires Road, was accep­ted for the 2017–18 race as a crew member of the Sanya Serenity Coast, skippered by 53-year-old Australian sailor Wendy Tuck, from Sydney.
The boat, which went on to win the over­all race, was sponsored by the Chinese city of Sanya, a hol­i­day des­tin­a­tion on the south­ern tip of Hainan Island.
Clipper 70s are not for the faint-hearted, or the work shy. They are stripped of all lux­ur­ies. Crew must become experts at hand­ling the boat as well as living in a con­fined space, man­aging all their kit and belong­ings as they settle into their new home. We saw dra­matic onboard foot­age of the yachts encoun­ter­ing massive seas, with the hori­zon tilt­ing crazily.
Martin was quot­ing Sir Robin Knox-Johnston when he said: "In a Clipper 70 you have everything you need to sail around the world, and noth­ing you don't need."
The open­ing leg from Liverpool to Punta del Este involved 32 days' sail­ing, with the 22 crew shar­ing a round-the-clock watch system with the days split into five seg­ments. Off watch, crew mem­bers could catch up on their sleep either on deck or in one of the avail­able bunks .
"In the Tropics, the tem­per­at­ure down below could reach 40 deg C, so it wasn't very good for sleep­ing," Martin explained. Another obstacle to over­come, espe­cially in the early stages, was sea sick­ness, although Martin man­aged to restrict this to one ses­sion.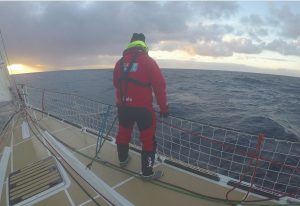 As the Sanya Serenity Coast reached halfway on the first leg across the Atlantic, Martin wrote in his diary, pub­lished on the race's web­site: "The last few days have been noisy, with the con­stant trim­ming of the spin­naker as we seek to squeeze every last knot out of the boat. Now we are through the scor­ing gate, we are on course south to the motor­ing cor­ridor, where we are allowed to turn on the motor for 60 hours, but only 60 hours, to get through the dreaded Doldrums. Once through that, which may be a prob­lem as they are very large this year, it is a 'sprint' (prob­ably almost two weeks) to the finish.
"The crew have agreed that I can do the blog today to ask you a favour. In a feeble attempt to regain some of the many house points lost recently at home, I did remem­ber to buy a present for my wife for our wed­ding anniversary on Monday. However, I forgot to tell her, or any­body else, where I put it. So, if there is any­body read­ing this who knows Penny, could you please tell her it's on the seat of the car in the garage? Thanks."
On Day 27 he wrote: "After what seems like many months at sea, we have noted a dis­tinct change in the morale of the crew. This all eman­ates from the inspir­a­tional words of Wendo [skip­per Wendy Tuck].
"Early in the leg, her legendary pep talks went along the lines of 'just don't break any­thing.' As the race con­tin­ued we were given strict instruc­tions, 'drive it like you stole it.' Now, how­ever, the time has come for the words we all needed to get us through to Punta. 'Think of the moji­tos, smell the BBQ.'
"With these words we powered ahead, the Doldrums far behind us and all the excite­ment of spin­nakers to keep us occu­pied."
"As we approach the final days of what we under­stand is the longest open­ing leg in Clipper Race his­tory, strange things have been hap­pen­ing on the boat. Jan Riley, our victu­aller has revealed that she is on Mother Duty tomor­row, Sunday, and we are to have roast beef.
"She has, appar­ently, secreted all the neces­sary ingredi­ents around the boat and will be gath­er­ing them together for this spe­cial meal. The excite­ment amongst the crew is intense par­tic­u­larly as last night we had chicken curry that con­tained both chicken and curry. To top it off we found the spicy mango chut­ney for the first time so the curry depart­ment is firing on all cyl­in­ders at last."
Applications are now open for the 2019–20 edi­tion of the Clipper Round the World Yacht Race. Please remem­ber to men­tion Stumperlowe Probus Club when sub­mit­ting your entry.