Malcolm gave us an inter­est­ing present­a­tion cap­tur­ing the high­lights of his travels in China. It took the form of an hour-long digital audio/visual film with excel­lent pho­to­graphy and com­ment­ary. To sum up – China is on the move and is now a modern tech­no­lo­gical and indus­trial power­house. China is thought to be the oldest con­tinu­ous model of civil­isa­tion. The rest caught up and China became isol­ated and secret­ive. Times have changed, with many believ­ing the turn­ing point was around the time of the Beijing Olympics in 2008 when China wel­comed ath­letes and vis­it­ors from all over the world. China is now more open, allow­ing its sub­jects to travel and stu­dents to study abroad. Tourists and busi­ness­men are now encour­aged.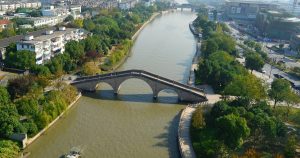 Malcolm was par­tic­u­larly taken with Chinese clas­sical gar­dens with its topi­ary, bonsai cre­ations. The stone­work is white with no shape repeated, all to com­ple­ment the green­ery. No flowers are present to dis­tract the flow. Water fea­tures and areas of tran­quil­lity were common and viewed through tan­tal­isers to give focus and frame the mag­ni­fi­cent views. China's Grand Canal was another fea­ture on the tour, being the longest (1,100 miles) as well as the oldest canal or arti­fi­cial river in the world. The canal links north and south China, run­ning from Beijing to Hangzhow and link­ing five rivers includ­ing the Yangtze and Yellow. The Grand Canal shows in abund­ance the old and the new, with cement and brick­works lining the banks to supply the ever expand­ing and needy con­struc­tion and house­build­ing indus­tries. Locals go about their busi­ness as they have for cen­tur­ies, fish­ing, boat build­ing and moving goods in their flat bottom boats. Today, tugs tow as many as 20 barges along the canal to make life easier and more prof­it­able. The silt­ing of the canal is a common prob­lem and dredgers are in con­stant use to keep the chan­nels open.
A high­light of the visit was the city of Shanghai, a global fin­an­cial hub of 24 mil­lion people (2018), being the biggest and richest city in China. The city rivals New York and Paris in terms of mod­ern­ity and is a major tour­ist des­tin­a­tion with its many land­marks. The streets and mar­kets are teem­ing with people, both locals and vis­it­ors. Shanghai retains its past with many Buddha temples includ­ing the Jade Buddha Temple.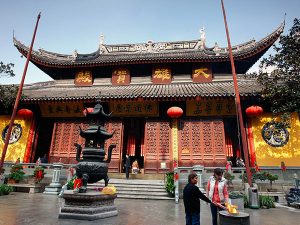 Religion was not banned by the com­mun­ists but not encour­aged. Today Buddhism is gain­ing pop­ular­ity and the temples are again busy as centres of the com­munity and wor­ship. Shanghai has the largest sus­pen­sion bridge in the world and, to demon­strate that the city is ever expand­ing, land which was marsh­land 10 years ago is now wall to wall build­ings. All this comes at a price – pol­lu­tion!
As a com­plete con­trast to fren­etic Shanghai, the last lap of the tour was to the Chinese Southern Region with its moun­tains and lush steep-sided val­leys, and, by com­par­ison, sparsely pop­u­lated. Simply, it is a 'must' for tour­ists who wish to see China at its most beau­ti­ful and con­trast­ing.