David showed us some nice hol­i­day slides, but they needed con­text and an accom­pa­ny­ing map to show us the loc­a­tion of the places vis­ited. Nor was there any men­tion of the Rohingya troubles. I have there­fore con­sul­ted the excel­lent DK Eyewitness Travel book on Myanmar to fill in some gaps, and par­tic­u­larly to cor­rect some of the spellings and decode some of my barely legible blog notes.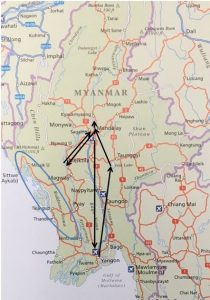 David Hague's route going anti­clock­wise (just follow the arrows):
Yangon (Rangoon), flight to Helo for Inle Lake and Kalaw Hill Station. Mandalay then north to Mingun, Back to Mandalay then to Bagan via Ayeyarwady River. Manadalay flight to Yangon. Ellipse = Rakhine state (Rohingya troubles)
Myanmar (Burma) bor­ders Bangladesh, India, China, Laos and Thailand. It has tower­ing gilded pago­das, spec­tac­u­lar arche­olo­gical sites, great beaches, stun­ning moun­tains and tra­di­tional cul­ture. It was opened up to tour­ism in 2010 with San Suu Kyi's suc­cess in the gen­eral elec­tion. My 2016 DK guide adds "the future finally looks bright …after dec­ades of civil war." Maybe less so now.The Bamars (70 per cent) dom­in­ate a diverse minor­ity ethnic pop­u­la­tion includ­ing the Muslim Rohingya (30 per cent). Other con­stants are Buddhism, and sup­port for the sangha (monk­hood). Half a mil­lion in claret robes work part time in mon­as­ter­ies from the age of seven. There are some 75,000 nuns.
Tourism just about keeps the eco­nomy going.
First stop, Yangon. It's a mix of (par­tially run­down) colo­nial charm and high rise chic five-star living. The Sule pagoda was rebuilt in the 14th and 15th cen­tur­ies and has a huge octa­gonal stupa (tower), covered in gold leaf with bamboo scaf­fold­ing.
Schwedagon pagoda is Myanmar's most sacred shrine. The British van­dal­ised it (not unique) but it is now restored. The stupa's 'banana bud' is covered by 13,000 solid gold plates. Just gold leaf below but a 76 carat dia­mond at the tip of the spire above (Sein Bu). King Tharrawaddy had an 80,000lb bell cast for it in 1841. The ceil­ing of its pavil­ion is superbly lacquered and inlaid with mosaic glass
Yangon's traffic is chaotic, and get­ting to the other side of the road is a fairly risky busi­ness.
Next stop was Heho air­port for the Inle Lake. One hun­dred thou­sand Intha people live in stilt houses around the lake. Many of them fish with large con­ical nets, pro­pelling them­selves with one leg on the tail of the canoe using the other as a ful­crum on the oar behind. Some of this may be for the bene­fit of tour­ists and there­fore prof­it­able. Fruit and veg are pro­duced in float­ing gar­dens, anchored by bamboo poles. Fried tree ants and crick­ets are a must. Setting the scene are mul­tiple mon­as­ter­ies, stupas and pago­das (ladies some­times pro­hib­ited), hand-loom fabric and silk pro­duc­tion, cigar rolling, boat-building using simple hand tools, girls on motor­bikes, melons, sacred cows, mopeds and stray dogs (which don't bite but rabies wasn't men­tioned). I was puzzled by the lookalike Scots in tartan and the alle­gi­ance to Arsenal. I couldn't quite work out where David had trav­elled by train apart from being on Nyaungshwe sta­tion where there were health and safety issues with exposed mains cables and a train fare hike for for­eign­ers.
You have to exper­i­ence at least one Burmese rail jour­ney, and the slow train from Shwe Nyaung to Aung Ban (Kalaw) is recom­men­ded. Initially built as a cen­tury hill sta­tion by the British as a summer retreat, it has an agree­able cli­mate and remains full of dilap­id­ated grandeur. Large Edwardian houses are remin­is­cent of S10. On one of the slides, there was a splen­did mock Tudor one that looked very famil­iar Trekking through ter­raced fields, tea plant­a­tions, forest and sub­sist­ence farm­ing com­munit­ies in the sur­round­ing hills is pop­u­lar and David clearly enjoyed this.
Overloaded top-heavy cars, fut-fut tract­ors, horses and carts, a para­sol fact­ory and English les­sons for would-be tour­ist guides were David's first impres­sions of Mandalay city. The exquis­ite teak-built Schwenandaw Monastery is one of the few sur­viv­ing vestiges of the Konbaung Dynasty which pre­ceded the British inva­sion in 1885
On Mandalay Hill, Kuthodaw Pagoda has a mag­ni­fi­cent golden stupa and con­tains the entire text of the Tipitaka scrip­ture carved on stone tab­lets (as David put it, the world's largest book). Amapura, on the out­skirts, has more pago­das and the famous U Bein's teak bridge. It reminded me a bit of the bridge over the River Quai
A cart ride to Inwa saw ancient ruins, brick and gilded stupas, mul­tiple other intact stucco and teak mon­as­ter­ies, all in paddy fields and banana groves. An intact bit of a palace, almost com­pletely des­troyed in an earth­quake in1839, is Myanmar's own lean­ing tower of Pisa.
The Ayeyarwady River runs south and gets increas­ingly silty (agri­cul­tural lifeblood) for 1,250 miles from the Himalayas to the Bay of Bengal, mil­lions depend­ing on it for their live­li­hood and crop irrig­a­tion. Since ancient times it was a stra­tegic link between China and the Indian Ocean.
A gentle chug up-stream from Mandalay for an hour gets you to Mingun where the unfin­ished giant stupa built by King Bodawpaya is the most strik­ing monu­ment of the whole river.
Bagan is one of Myanmar's greatest archae­olo­gical sites. There are numer­ous medi­eval city rem­nants from Bagan's empire days from the 11th to 13th cen­tur­ies, with over 2,000 temples, stupas and mon­as­ter­ies, some of which were seen by David — a superb spec­tacle rising up from the dusty sand flats.
We saw an impress­ive aerial view from a great height in a hot air bal­loon in one of the slides, but shock horror — David con­fessed it was pinched from the inter­net.