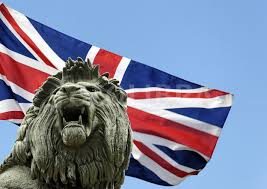 Our speaker this week, Antony Taylor, was Professor of Modern History at Sheffield Hallam University, a spe­cial­ist in polit­ics and cul­ture. His topic could not have been more top­ical, as the cur­rent Brexit debate raged around us in Parliament and the media.
Tony emphas­ised from the start that his talk was not about the pros and cons of leav­ing the European Union and that he would try to give an even handed inter­pret­a­tion of events. The present impasse, he argued, owed much more to long term traits in our (four) coun­tries' char­ac­ter­ist­ics than to more recent con­cerns such as back­stops and con­trol of bor­ders. Brexit raised mul­tiple issues around British iden­tity and cul­ture and promp­ted ques­tions about the forces that shaped it. It could even be argued that British atti­tudes to Europe go back to the events of 1066 and the Norman Conquest; the influ­ences from which still res­on­ate on Britons today.
Brexit had emphas­ised the frac­ture lines between London, its met­ro­pol­itan elite, and the rest of the coun­try, between cities and towns, sea­side and inland, the Celtic nations, young and old, gradu­ates and non-graduates. There was now a crisis of 'Britishness' and con­fid­ence in many British Institutions had waned. Many of our national insti­tu­tions com­manded the respect they once did. The BBC, the Civil Service and the NHS were under scru­tiny and even the Monarchy had had its dif­fi­cult moments. At the same time we have wit­nessed the rise of Celtic nation­al­ism. The 2015 General Election saw the SNP sweep the board in Scotland while the two main national parties emerged weaker with their pos­i­tion more fra­gile and divided.
At the same time there has been a revival of 'Englishness' if not entirely of the 'Jam and Jerusalem' or rose-covered cot­tage, Morris dan­cing vari­ety. A recent poll showed 70% of those who self-identity as English voted for Brexit; 70% of those who self-identify as British voted remain, espe­cially people of Black, Asian and Minority Ethnic back­ground. Englishness, Tony thought, was a more vis­ceral iden­tity than Britishness, quot­ing from Daniel Defoe's 'Trueborn Englishman' : "From this ill-born amphi­bi­ous mob began/that vain, ill-natured thing, an Englishman" and less the left felt neg­lected, from George Orwell and Billy Bragg.
Nothing has become of a pro­posed Yorkshire Parliament that could argue its case along the lines of those in Cardiff, Edinburgh or Belfast. Tony thought that the absence of bind­ing, gov­ern­ing insti­tu­tions that could be described as truly 'English' were a factor in Brexit voting and issues of regional con­cern were not being addressed in devolved Government agen­das: there had been a rebel­lion against power­less­ness.
Having com­pared the impact 'Englishness' and 'Britishness' on Brexit, Tony Taylor turned to events in our own life­time. The present crisis of British nation­hood, he argued, began in the 1950s and 1960s. Again, there were ref­er­ences to lit­er­at­ure of the period which our speaker con­tras­ted to that writ­ten only eighty years earlier. Sir John Seeleys "Expansion of England" (1883) and Joseph Chamberlain's speeches with their pat­ri­otic talk of 'Imperial fam­il­ies and mis­sion' and 'sons of Britain and Empire' were matched against an era of with­drawal and decline, depic­ted in such offer­ings as John Manders "Great Britain or Little England?" and Kingsley Martins's "Britain in the Sixties: The Crown and the Establishment" (both Penguins cost­ing 17.5p!). The sun was set­ting and winds of change were blow­ing Union Jacks down, not just over Suez but in over 40 colon­ies around the world. Aden in 1967 was the last 'colo­nial war'. It is unlikely today that any Dominion Prime Minister would declare him­self, like Sir Robert Menzies, 'British to the boot­straps'. But it was, per­haps, an American, Dean Acheson, who summed it all up in 1962 "Britain is a coun­try that has lost an Empire but not yet found a role".
And so we arrived at post-imperial Britain along with nos­tal­gic 'Dad's Army' and Bruce Forsyth's "Backing Britain" (both 1968). On the polit­ical front, Britain saw its future in Europe's then Common Market finally join­ing in 1973. It has always been a frac­tious rela­tion­ship with a ref­er­en­dum pro­du­cing the narrow 'Brexit' vote of 2015. Tony con­sidered that neither Europe nor the Commonwealth had been a sub­sti­tute for Empire, inter­est­ingly its loss of oppor­tun­it­ies being felt dis­pro­por­tion­ately in Scotland which could no longer feel part of the imper­ial endeav­our. Several prom­in­ent UKIP mem­bers such as Douglas Carswell, had an Imperial back­ground. Post-imperial Commonweath per­spect­ives how­ever, never entirely dis­ap­peared. Michael Shanks, in "The Stagnant Society" (1961) believed that entry into the EEC had to be coun­ter­bal­anced by con­tinu­ing pref­er­en­tial trade with the Commonwealth. That view per­sisted to this day but the world has moved on.
Tony Taylor con­cluded his talk with a brief resume of other factors which might have impacted on the Brexit vote. These included broader and emer­ging trends in the modern world. Despite recent Russian resur­gence, the end of the Cold War in 1990 has led to a weak­en­ing of the old Atlantic view and the 'spe­cial rela­tion­ship'. The US is now strug­gling to con­trols its interests and, in common with Europe, the rapid rise of China is an emer­ging threat. National cul­tures are being washed away by glob­al­isa­tion lead­ing to enfeebled state sys­tems that struggle to con­trol mil­it­ant region­al­ists from Spain to Scotland.
Professor Taylor con­cluded his present­a­tion at that point and invited ques­tions. A ses­sion of about 30 minutes fol­lowed when a ride range of issues were dis­cussed, many being of the 'how do we get back con­trol of our borders/money/laws', 'where do we go from here' and 'what hap­pens if' 'vari­et­ies. It was a most stim­u­lat­ing and inter­est­ing morn­ing, for which our speaker received warm applause.
MICHAEL CLARKE