We all knew how it would finish, of course, but Peter Stubbs kept us enthralled to the very end of the second part of his talk on the War at Sea, 1914 to 1918.
Peter briefly recapped on his pre­vi­ous week's talk, when we left the British Navy and the British public in good spir­its fol­low­ing the anni­hil­a­tion of Von Spee's squad­ron in the South Atlantic in December 1914. "Britannia ruled the waves again, but not for long," he told us.
"Only eight days later, at 9am on December 16 and without any warn­ing whatever, high explos­ive shells smashed into houses, shops and other prop­er­ties in Scarborough, Whitby and Hartlepool."
Admiral Franz Hipper had man­aged to leave har­bour in Germany and cross the North Sea undetec­ted. The British Admiralty had cracked German naval codes and warned the fleet of the Germany move­ment, but Admiral David Beatty failed to inter­cept either of Hipper's squad­rons, in part due to poor vis­ib­il­ity in the North Sea and in part to sloppy sig­nalling by his flag officer.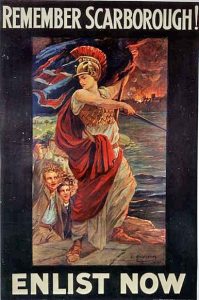 A post-Scarborough recruit­ment poster.
Only Hartlepool could have been said to be a legit­im­ate target with its dock­yard and factor­ies. In all 86 people were killed and 443 injured. Worst hit were the Bennett family in Wykeham Street, Scarborough. Of seven family mem­bers, four were killed.
The British public was out­raged. How could the largest and most power­ful navy in the world have failed to pro­tect them? But it was also a pro­pa­ganda coup for Britain. Recruiting in the army and navy shot up, helped by dra­matic poster advert­ising.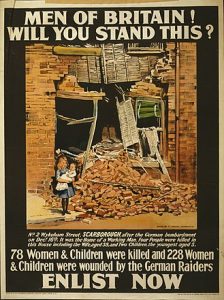 There was a par­tial response nine days later, on Christmas Day, when Britain inflic­ted the first ever war damage in naval his­tory by air power. Merchant ships had been adap­ted with hangars on deck for sea­planes, with hoists to lift the planes in and out of the water. When the ships got close enough to the German coast seven sea­planes were launched and car­ried out a daring bomb­ing raid on the Zeppelin hangars at Cuxhaven.
Further – and more sig­ni­fic­ant – pay­back came a month later at the Battle of Dogger Bank, when Beatty's battle cruis­ers con­fron­ted Admiral Hipper, who had led the bom­bard­ment of Scarborough. Hipper came out of his home waters with three battle cruis­ers, three lights cruis­ers and two flo­til­las of des­troy­ers.
"The British knew they were coming," Peter explained. "They had obtained the German naval codes thanks to the bril­liance of code break­ing staff in Room 40 at the Admiralty. Admiral Beatty was aler­ted, and set off south from Rosyth to inter­cept Hipper." The British ships, all built between 1909 and 1913, were faster than the German oppos­i­tion, and out­gunned them.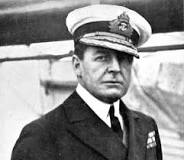 "As soon as Hipper's ship was in range, Beatty sig­nalled to his ships 'Open fire and engage the enemy.' It was the first clash between modern battle cruis­ers in the north­ern hemi­sphere."
Meanwhile, with Britain now at war with Turkey, the Admiralty revis­ited earlier con­tin­gency plans for a joint naval and mil­it­ary attack on the Dardanelles. It was a haz­ard­ous plan. The nar­rows were less than a mile wide and lined with forts and gun emplace­ments, making it impossible for the navy to 'stand off' at a dis­tance and attack out of range of the land based guns. There were also mines laid across the straits.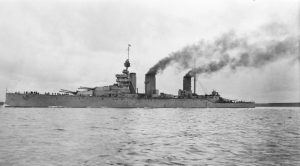 Five allied ships were lost and three badly dam­aged, and in all 700 British and French sail­ors were lost, with noth­ing achieved.
Back in the North Sea, both sides con­tin­ued to play cat and mouse, with mixed res­ults. After one par­tic­u­larly bruis­ing encounter, when his flag­ship Lion was hit twice in five minutes, Beatty reportedly said to his officers: "There seems to be some­thing wrong with our bloody ships today. As Peter explained: "He was quite wrong. What he should have said was 'there seems to be some­thing wrong with our bloody officers today!'"
However, Britain still had com­mand of the seas. A block­ade remained in full force pre­vent­ing much needed sup­plies from reach­ing Germany. The Battle of Jutland in July 1916 was effect­ively the end of the sur­face war.
But the peril of Germany's sub­mar­ine fleet was ever present. Relations between Germany and the United States had hit rock bottom with the sink­ing of the Lusitania in May 2015. The Lusitania and her two sister ships were the largest pas­sen­ger liners in the world. Although she nor­mally trav­elled at 25 knots, too fast to be at risk from tor­pedo attack, as she approached the Irish coast she ran into a bank of fog and was forced to reduce speed.
One tor­pedo was suf­fi­cient. It was fol­lowed by a large explo­sion on the ship, prob­ably some of the explos­ives and arma­ments she was allegedly car­ry­ing, and within 18 minutes she had sunk with the loss of 1,200 pas­sen­gers, among them 126 US cit­izens.
The sink­ing did not bring the US into the war, but it had a sig­ni­fic­ant effect on the atti­tude of the US gov­ern­ment and public opin­ion. In Germany, mean­while, the sink­ing was cel­eb­rated and school­chil­dren were given a day's hol­i­day.
The unres­tric­ted German sub­mar­ine offens­ive which even­tu­ally brought America into the war was ulti­mately defeated by the convoy system, and this reversal along with a lack of land pro­gress on the west­ern front was bring­ing Germany to its knees. But although the sub­mar­ine war had been won, the damage from the U-boat offens­ive was immense; during 51 months of war, German sub­mar­ines had sunk 5,282 British, allied and neut­ral mer­chant ships.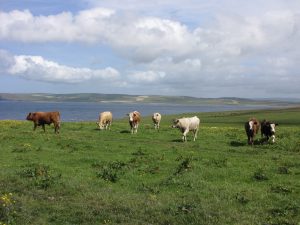 On 21st November 1918 more than 70 ships of the German High Seas Fleet suffered the ulti­mate humi­li­ation of sur­ren­der­ing to 370 escort­ing ships of the allied navies and being escor­ted to Scapa Flow to be interned there. More than 120 sub­mar­ines were also taken into intern­ment at Harwich. In an ironic twist, seven months later the cap­tured German fleet at Scapa was scuttled by its own crews to avoid the ships being taken into use by the British navy.
Peter con­cluded by telling us: "As we all know, the peace was a rel­at­ively short one last­ing only 20 years. Although appar­ently for­got­ten — or at least little men­tioned — by our modern day politi­cians, the two world wars were the real and most import­ant reason for the set­ting up of the European Community and for coun­tries want­ing to be mem­bers of it. It seems that our politi­cians now think that another European war is impossible."