Sheffield city centre is blessed with many strik­ing build­ings of archi­tec­tural qual­ity from the late 19th and early 20th cen­tur­ies demon­strat­ing the wealth and prestige of the city at that time. Many of the build­ings were fur­ther enhanced by super­ior stone carvings, many of which were hand craf­ted by the family com­pany Frank Tory and Sons. The firm was in busi­ness from the early 1880's to the late 1950's and was owned by Frank Tory and his twin sons Alfred Herbert and William Frank . Apart from stone, the com­pany worked in wood, marble , bronze, copper and plaster.
Frank Tory was born in 1848, des­cen­ded from Huguenot refugees. He ori­gin­ated from London and trained at the Lambeth School of Art, coming to Sheffield in 1880 to work on a stone carving con­tract at the Corn Exchange .(gutted by fire 1947, demol­ished 1964) Tory's work was of such a high stand­ard that it was sug­ges­ted he stayed in Sheffield where there would be plenty of work for him. His work at the Corn Exchange brought him into con­tact with the archi­tect Matthew Hadfield whose son Charles recom­men­ded Tory set up his own busi­ness.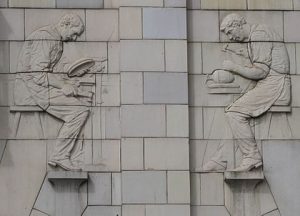 Frank's identical twin sons Alfred (1881 — 1971) and William (1881 – 1968) trained under their father who also taught at the Sheffield School of Art and even­tu­ally joined the family busi­ness. Frank and his sons worked together with the sons gradu­ally taking over the com­pany and win­ning many com­mis­sions in the 1920's and 1930's. Frank Tory died in 1939 and when Alfred and William retired in the late 1950's , the firm was wound up because archi­tec­tural styles were chan­ging with stone carvings and sculp­ture becom­ing unfash­ion­able in modern build­ings.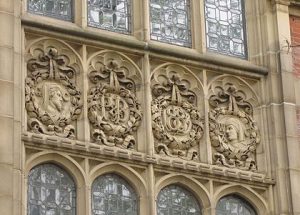 The talk by Sylvia chal­lenged us all to stop walk­ing with our eyes glued to the ground or straight ahead but to look up and study these old build­ings enhanced by the artistic work of Frank Tory and Sons , and others. Take a look at the last­ing legacy they have given us on the fol­low­ing build­ings :-
Parade Chambers High Street (1883–85), Cairns Chambers Church Street, Carmel House Fargate, Sheffield City Hall, Sheffield Central Library (1934), Mappin Art Gallery (1937), White Building Fizalan Square (1908), Victoria Hall (1908). Sheffield Cathedral, Sheffield University (1926), Weston Park Museum, Old Fire Station. Look inside the churches of St Matthews, Cathedral Church of St Marie and St John's.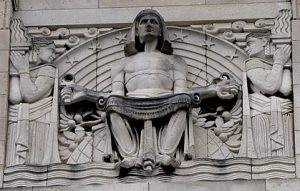 Their work was not con­fined to Sheffield as they under­took sig­ni­fic­ant assign­ments in Leeds ( Civic Hall), Chesterfield ( Town Hall and the Golden Fleece ), Preston ( St Ignatius Church), Birmingham (Fire Station) and Hull (Paragon Station).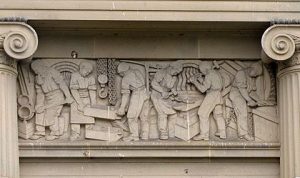 It was an inter­est­ing talk which chal­lenged us to look at Sheffield's old build­ings with a new aware­ness of the skills and ded­ic­a­tion which were needed to build and dec­or­ate them. Clearly, Frank Tory and his sons were artists of con­sid­er­able abil­ity and made a sig­ni­fic­ant con­tri­bu­tion to the her­it­age of Sheffield. Go, explore and admire the work of Frank Tory and Sons.