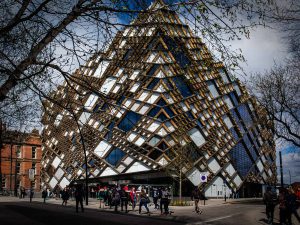 Thanks to Graham Snowdon, our sec­ret­ary, eleven mem­bers enjoyed a very edu­ca­tional visit to the Sheffield University's latest and most expens­ive build­ing, the Diamond Building. It gets its name from the out­side facade which is dec­or­ated with dia­mond pat­terns. Some people hate it and others love it. At least it makes a state­ment. It is a sci­ence and engin­eer­ing, teach­ing and research facil­ity, with the emphasis on Research.
It has four floors and a base­ment which house:
Student-Led learn­ing spaces.
4 com­puter labor­at­or­ies.
9 lec­ture theatres.
3 work rooms.
17 engin­eer­ing labor­at­or­ies.
The whole interior is designed to have an open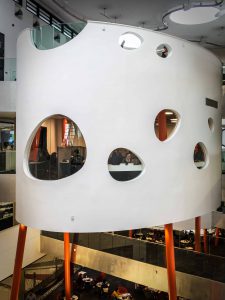 spa­cious feel about it and max­imum use is made of nat­ural light. The cent­ral sec­tion of the build­ing is open with study pods on stilts to allow the nat­ural light to come down from the ceil­ing.
Each study pod has two levels, an inner level for quiet study, and an open top study area.
Most of the labor­at­or­ies are around the cent­ral space and on sev­eral floors, whilst the lec­ture theatres are con­fined to the base­ment.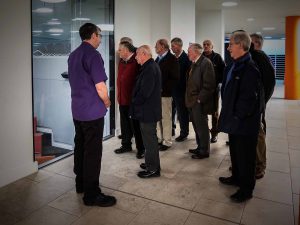 The build­ing is open for stu­dent study 24 hours a day, 7 days a week and it has the capa­city to cater for 4,300 stu­dents.
The visit lasted approx­im­ately 2 to 2.1/2 hours with some mem­bers trying their hand at flying on the flight sim­u­lat­ors.
It was an excel­lent morn­ing for the mem­bers that atten­ded and our grate­ful thanks must go to the uni­ver­sity staff who were so accom­mod­at­ing.