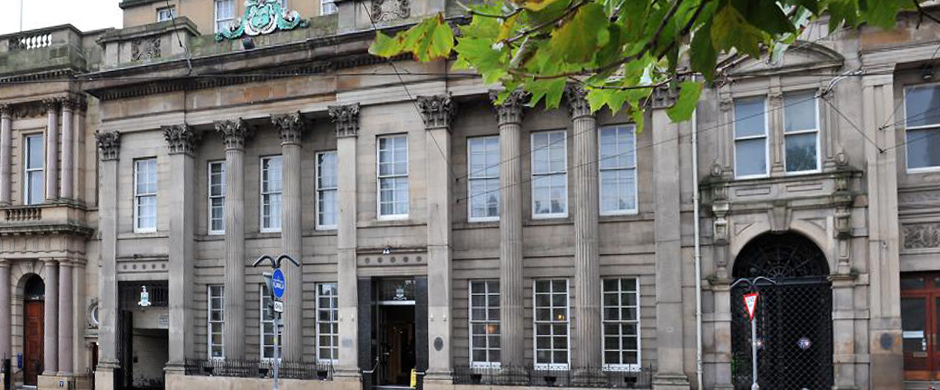 We were told that we were in for a sur­prise but noth­ing could have pre­pared us for what we saw and exper­i­enced. It was tre­mend­ous and if you look at the gal­lery you will see pho­to­graphs of some of the rooms and what they con­tained. We were very for­tu­nate because we not only saw the public rooms and cham­bers but also the private rooms.
We met at about 10:15 to 10:30 am for coffee in a recep­tion room on the first floor and our tour began at 11:00 am. We were split into two groups of twelve to fif­teen which meant that we could all hear what our guides were saying.
There have been three Cutlers' Halls built on the same sight: the first being built in 1638 but was found to be inad­equate and this was replaced by a larger build­ing in 1725. Again this was replaced by a new build­ing in 1832 at a cost of £6500.00 which was then exten­ded between 1865 and 1867.The front of the Hall is deceiv­ing because as you enter it is like going into a Tardis: it seems to go on for ever as you go through vari­ous rooms, almost extend­ing to Fargate. The oldest rooms which con­tain the ori­ginal ban­quet­ing hall are to the rear of the com­plex.
The Cutlers' coat of arms can be seen every­where within the build­ing with the motto, "Pour y par­ven­ier a bonne foi.", which trans­lated means, "To suc­ceed through good faith." Various depic­tions of ele­phants are also abund­ant although in some cases it is quite evid­ent that the artist had never seen one.
The old ban­quet­ing hall is to the rear of the build­ing and has a mag­ni­fi­cent sky­light: it also has a con­cealed door which I found fas­cin­at­ing. In the main hall, used for very grand events in the city, includ­ing enter­tain­ing roy­alty, there are plates on the walls show­ing all the Master Cutlers from 1624 to the present day. There are also sev­eral plates of bene­fact­ors and founders. Flags of all nations ( pos­sibly of the Empire ) used to hang from the walls in this hall but they have been taken down for health and safety reas­ons. When I quer­ied this I was told that they har­bored dust and bac­teria which could fall on the guests eating bellow.
Each year from 1648, apart from inter­rup­tions by the World Wars the Master Cutler has held 'The Cutlers Feast', a very grand event. Sometimes the ladies have joined the gen­tle­men, but more often than not they have had their own feast in the Hadfield Hall, which is situ­ated below the Main Hall, although it was strenu­ously poin­ted out that this would be the decision of the Mistress Cutler. The ladies would then go upstairs to the 'Ladies Gallery' to listen to the speeches, although lat­terly they have watched and listened to them on mon­it­ors in the Hadfield Hall.
The walls in all the rooms are dec­or­ated with por­traits of Master Cutlers', famous places, and famous people. Some rooms and cor­ridors con­tain dis­play cab­in­ets of edge tools con­sist­ing of pen knives, scis­sors, snuffers and cut­lery, includ­ing the Norfolk Knife which was man­u­fac­tured by Joseph Rodgers and Sons at there works on Norfolk Street for the Great Exhibition in 1851.
Our tour ended with a visit to the private cham­bers of the Master Cutler and also the cham­bers of the Mistress Cutler. This was cer­tainly a visit which I am pleased that I didn't miss.