Peter Stubbs, who trav­elled from his home in Bakewell and was warmly wel­comed by an audi­ence of 48 mem­bers, is no stranger to Stumperlowe Probus Club. This was his fifth visit to us in just over two years.
Peter is a man of many parts, and tal­ents. On his first visit he man­aged to cram 900 years of legal his­tory into just over an hour. Then, after three talks on his other big pas­sion in life, naval his­tory, Peter rever­ted to the day job to enter­tain us with stor­ies of a selec­tion of the char­ac­ters — ran­ging from the col­our­ful to the scary — he rep­res­en­ted during his 35-year career as a crim­inal lawyer in Sheffield.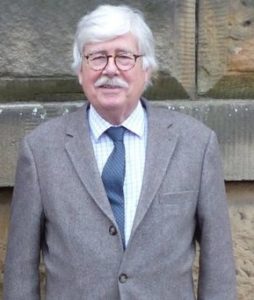 It was, as he poin­ted out in his intro­duc­tion, a story of his life in crime, not his life of crime. "My own crime record is modest," he assured us. "I had a bit of a pen­chant for park­ing on yellow lines on shop­ping trips, and I also man­aged to pick up one or two speed­ing offences.
"In my early 20s I was coming back from a night out in London, the fol­low­ing morn­ing, when an 'Inspector Morse' Jaguar over­took me and flagged me down, and in Sheffield many years later I was on Rivelin Valley Road when out jumped a police­man with a speed gun who told me I was doing 38mph just after the 40 limit had changed to 30." The fact that he was on his way to work – in fact to York Crown Court — cut no ice with the zeal­ous officer.
Peter's career began in 1978, and his prac­ti­cing cer­ti­fic­ate as a soli­citor was signed by Lord Denning, the Master of the Rolls for 20 years up to 1982 and one of the most famous names in British legal his­tory.
Although Peter's prac­tice in Sheffield was a gen­eral one, a large pro­por­tion of his work was involved with crime. "It was inter­est­ing and at times excit­ing, and often quite fun," he recalled. "But what I might think was fun was ser­i­ous busi­ness."
Cases, per­haps not sur­pris­ingly in Sheffield, included hand­ling stolen scrap metal. Another reg­u­lar client had set up a bogus build­ing busi­ness and was caught steal­ing lead from the roof of a bay window. "It turned out they had done about 60 houses; he was found guilty and went to prison. He just accep­ted it as a hazard of the job."
Petty crime often ran in fam­il­ies, who would be Peter's cli­ents for ten years or more. He felt sorry for one lady, who was proud that one of her sons had reached the age of 16 without being 'done,' only to catch his broth­ers up with alarm­ing speed as he worked his way up the crim­inal ladder.
Today, all police inter­views must be recor­ded, with both sound and video, but it was not always the case. "In the old days, one of the officers would sit at the table taking notes, and it was not unknown for some of the evid­ence to be made up. Police are no dif­fer­ent to any­body else, and some­times they break the rules."
The Police and Criminal Evidence Act has largely countered that, and today all evid­ence must be recor­ded.
Peter was acting for a man who had been accused of assault­ing a police officer one Friday night on Attercliffe Road, but for­tu­nately for his client there were three people having an Indian meal by the window in a res­taur­ant who saw what happened and claimed that it was the police officer who assaul­ted the accused. They went to the police sta­tion, where the police did not take evid­ence but were obliged to pass the wit­nesses' details on to Peter.
Peter recalled a lady called Violet, who would more appro­pri­ately have been called Violent, who lived in Attercliffe and was well known to police. She got into an argu­ment in a pub with a fellow cus­tomer who was not phys­ic­ally injured but dropped down dead with a heart attack. Violet was charged with threat­en­ing beha­viour, but later claimed that the invest­ig­at­ing officer had sexu­ally assaul­ted her. "I found that hard to believe, know­ing Violet, but she claimed to have evid­ence" (which turned out to be a sample of semen wrapped in cling film, which Peter felt duty bound to take home and store in his freezer).
"The invest­ig­at­ing officer ran a defence of con­sent, which was accep­ted, although he was dis­missed because of unpro­fes­sional con­duct."
Murder was all in a day's work for Peter, and he gave us examples of some of his more mem­or­able cases. In the first, a hus­band had claimed that his wife had killed their daugh­ter and then tried to throw her­self under a bus. She was charged with murder, but an expert on pre-menstrual ten­sion gave evid­ence which res­ul­ted in the woman being com­mit­ted to a psy­chi­at­ric hos­pital.
Another client, a bus driver in Sheffield, had been arres­ted on sus­pi­cion of mur­der­ing his girl­friend, who was found dead with her throat cut on the floor of her flat at Park Hill. The only evid­ence against him was from the man's aggrieved wife, who claimed that he had admit­ted to killing the victim. The accused was able to prove "beyond doubt," accord­ing to Peter, that he was sev­eral miles away at the time of the murder, driv­ing his bus on the other side of Sheffield, but the jury found him guilty by 10 to two and he received a life sen­tence. The wife later admit­ted to Peter that she had lied, but an appeal was dis­missed and the bus driver died in prison four years later from a heart attack.
The last murder case involved a long stand­ing client, for whom Peter's prac­tice had pre­vi­ously done con­vey­an­cing work, who told his part­ner that he had voices in his head telling him to kill people. She took him to hos­pital where they sought psy­chi­at­ric help, but they were sent on their way.
The fol­low­ing day the man con­fided to his wife: "Actually, the voices were telling me to kill you, but I didn't want to tell you last night." He later stabbed his part­ner 30 or 40 times and was charged with murder, although he offered a plea of man­slaughter which was accep­ted.
Peter roun­ded off his present­a­tion by taking ques­tions from the floor. One member asked if he watched TV detect­ive pro­grammes. "All the time," he admit­ted. "I'm retired after 35 years, and I am watch­ing Inspector Morse! It's ridicu­lous! But they are metic­u­lously done."