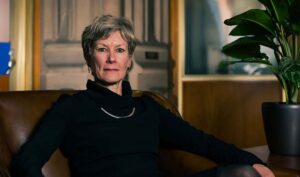 Professor Gill Valentine is a lead­ing player in the world of aca­demia, loc­ally and nation­ally.
When she talks about mat­ters of edu­ca­tion, espe­cially fur­ther edu­ca­tion, people listen. And that was cer­tainly the case when Stumperlowe Probus Club mem­bers were for­tu­nate enough to be given almost two hours of Prof Valentine's valu­able time for our latest Zoom present­a­tion. Listen they did, and she respon­ded metic­u­lously to some prob­ing ques­tions, includ­ing from one of our own retired uni­ver­sity pro­fess­ors.
Gill is Provost and Deputy Vice-Chancellor of the University of Sheffield. She worked at the uni­ver­sity between 1994 and 2004, when she left to join Leeds University as Head of the School of Geography. In 2012 she rejoined Sheffield as Pro-Vice Chancellor for Social Sciences. She is a member of the university's Executive Board and has chaired the Quality, Diversity and Inclusion Committee.
She is a spe­cial­ist in social geo­graphy, with her key areas of research cov­er­ing social iden­tit­ies and belong­ing, child­hood, par­ent­ing and family life, and urban cul­tures and con­sump­tion. She is a co-founder of the journal Social & Cultural Geography, and was elec­ted a Fellow of the British Academy in 2018.
In her career to date Gill has secured research grants worth more than £5 mil­lion, includ­ing a pres­ti­gi­ous European Research Council Advanced Investigator award, and she has pub­lished 17 books and more than 170 art­icles. She serves on the edit­or­ial boards of two inter­na­tional journ­als, Children's Geographies and Geography Compass.
Gill opened her talk with an over­view of the higher edu­ca­tion system, which over the last ten to 15 years has grown to a total of 232 HEIs (Higher Education Institutions) in England and around 100 tra­di­tional uni­ver­sit­ies, and the chal­lenges faced over future fund­ing with ref­er­ence to the Augar Review into the cost of deliv­er­ing higher edu­ca­tion.
Gill was keen to high­light the co-operation between the uni­ver­sity and local busi­nesses and com­munit­ies, with ambi­tious plans to power the region's regen­er­a­tion by find­ing new ways of shar­ing talent. The uni­ver­sity is work­ing with local schools and col­leges, from primary chil­dren to mature stu­dents, par­tic­u­larly tar­get­ing areas where young people are least likely to go into higher edu­ca­tion.
They work with part­ners across the region on the RISE busi­ness sup­port ini­ti­at­ive, and to date the uni­ver­sity has helped more than 400 region­ally based SMEs (small and medium enter­prises) to recruit over 500 gradu­ates. At the university's renowned Advanced Manufacturing Research Centre, where part­ner­ships are in place with com­pan­ies such as Boeing, Rolls Royce and McLaren, they have helped 400 employ­ers to train more than 1,500 appren­tices. In part­ner­ship with the Universities of Leeds and Sheffield, they have recently launched a new invest­ment com­pany, Northern Gritstone, to develop uni­ver­sity spin-offs and start-ups.
The uni­ver­sity has been work­ing along­side the City Council and busi­nesses to secure £15.8 mil­lion fund­ing from the government's Future High Streets Fund to 'reju­ven­ate and rein­vent' Fargate and High Street as social hubs. The Medical School also works in part­ner­ship with the local com­munity on health related issues, with stu­dent volun­teers spend­ing time in local primary and sec­ond­ary schools, as well as Sheffield-based char­it­ies.
We were left in no doubt that the future well­being of Sheffield University and our local com­munity, both fin­an­cially and socially, are inex­tric­ably linked.